Alphabetically:








In any diving emergency, the more quickly you seek treatment, the more likely you are to get full resolution of the problem. These numbers are provided by Reef Seekers as a public service. THESE NUMBERS WERE LAST CONFIRMED AS ACCURATE ON JANUARY 8, 2023. Please also remember that there is a chance some of these may change subsequent to our publication of them.

You can also call us (Reef Seekers) at 310/652-4990, tell us what's going on, and we'll do our best to refer you to the proper place.
X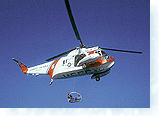 These numbers are generally intended to help you initiate immediate first aid and treatment for diving accidents. If you have a question that is of a general nature, and does not involve the immediate resolution of a possible diving accident, please use the non-emergency numbers listed or call Reef Seekers directly at 310/652-4990 and we'll point you to the help you need.
IF YOU'RE ON THE WATER IN A BOAT (PRIVATE & COMMERCIAL) AND HAVE A DIVING EMERGENCY
WHICH REQUIRES IMMEDIATE ASSISTANCE OR EVACUATION:
MARINE RADIO: Channel 16.
Call for the Coast Guard, state the vessel name and location, declare that you have a scuba diving emergency which requires immediate assistance. When USCG responds, start with the condition of your diver in distress: conscious or unconscious, breathing or non-breathing. USCG will move you to another channel, get more detailed info, and dispatch help. (It takes a while, so try to be as patient and calm as possible given the circumstances.) The L.A. County Lifeguards and the Chamber (as well as some other agencies) also monitor Channel 16 and should also hear what's going on.
If radio contact is not an option and you have a cell phone with service, you can also use the emergency numbers listed below.

IF YOU THINK YOU'RE BENT OR EMBOLI ZED
• • • SOUTHERN CALIFORNIA ONLY • • •
Catalina Hyperbaric Chamber: 310/510-1053 (emergencies only)

L.A. County Medic Alert Center: 866/940-4401, then push "1" and tell the operator you have a scuba diving emergency
and need to speak to the hyperbaric physician on call

UCLA Hyperbaric Center (Gonda Wound Care Center - normal business hours): 310/794-9014
(AFTER HOURS, UCLA PAGE OPERATOR: 310/825-6301, press 1, tell them it's a scuba emergency, and ask to page the on-call hyperbaric physician)

• • • EVERYWHERE ELSE INCLUDING INTERNATIONAL • • •
D.A.N. (Divers Alert Network): 919/684-9111 (they will accept a collect call from anywhere in the world)
Also: 800/326-3822

NON-EMERGENCY DIVING MEDICINE QUESTIONS
Catalina Chamber: 310/510-4020
D.A.N.: 919/684-2948 (M-F, 8:00A-8:00PM ET)

OTHER EMERGENCY NUMBERS
D.A.N. Travel Assist (non-diving emergencies): 866/330-7984