• • • REEF SEEKERS REPAIR DEPARTMENT • • •
Contact our repair guru Robert Stark directly at 310/947-8523
or via e-mail at ReefSeekersRepair@gmail.com
(Ask Robert about our unique concierge "Repair Pickup & Delivery Service")

SAVE 33% ON YOUR REG, OCTO, OR BC REPAIR - CLICK HERE TO FIND OUT HOW
————————————————————————————————————————————————————————————————
Want to travel??? Upcoming 2015-2016 vacation trips:

• August 1-6 - Isla Guadalupe & Great White Sharks [ NOW $1,000 OFF - SOLD OUT!!! . . . although we may be able to get a couple more ]
• August 13-20 (WEEK 1) - Isla Mujeres & Whale Sharks, cenotes, and statues [ SOLD OUT!!! ]
• August 20-27 (WEEK 2) - Isla Mujeres & Whale Sharks, cenotes, and statues [ A FEW SPOTS LEFT ]
• November 3-16 - Maldives on the Manthiri [ NOW ONLY 4 SPOTS STILL AVAILABLE ]

GET MORE INFO ON ALL OF OUR VACATION TRIPS HERE: www.reefseekers.com/foreign_trips.html
————————————————————————————————————————————————————————————————
What a lovely weekend to do lots of things . . .

OIL RIGS LOOKED NICE - We heard from some folks who made it out to the Oil Rigs on Sunday. Water was very flat and around 64º on the surface but 54º at 100 feet. Ouch!!! Viz sounded so-so for the rigs at 40-feet or so. (I've been there on days when it was 150 feet and that was spectacular.) It also sounds like they've cleaned down to the 60-foot mark. They do this periodically but literally using a high-pressure hose to blast everything off the of the rig structure. The thinking behind it is that as stuff grows on the rigs, it increases the amount of surface area of the rigs, which then subjects them to more stress when there are currents or rough seas. Periodically scrubbing everything clean relieves that stress, at least temporarily. What's really interesting, though, is to see how relatively quickly things start growing again. Life in the ocean is a constant battle for survival and when there's an opening - like a clean space - organisms will find it and exploit the opportunity.

ONLY FOUR SPOTS LEFT ON OUR MALDIVES TRIP - We signed up two more folks this week which now leaves us only four spots on the Manthiri. Dive dates are November 5-14. (It means well be out of the country for the election so if you're going on this trip you'll also need to get an absentee ballot.) Looks like we'll depart from LAX late evening on November 2 on Turkish Airlines through Istanbul and then into Male, Maldives. We'll encamp in a hotel to rest up for the journey and then board the boat the next day. On the way back, we'll likely have the option of spending a few days in Istanbul on the way back. We've found a Doubletree by Hilton in the Old Town area (which is near all the cool stuff) and the rooms are in the range of $100/night, so very reasonable. So we'll have a fabulous dive trip with our friends on Manthiri (they'll be at the Scuba Show - see below), and we'll also get a chance to explore a very historic city on the way back. But once those remaining spots are gone, the trip is full. So don't get left out. Call us at 310/652-4990 to reserve your space.

GUADALUPE TRIP IS SOLD OUT - We are now full on our August 1-6 trip aboard the Nautilus Belle Amie to go back see the Great White Sharks of Isla Guadalupe. However, we're sharing our 12 spots with our friends at Ocean Adventures and they haven't gotten commitments on all of theirs yet, so if you'd still like to go, we can probably work it out. But call us right away. Don't forget that we're able to offer a Scuba Show special which is a $1,000 discount. The brings our "all-in" price - round-trip transport from San Diego to Ensenada via motor coach, boat, diving, meals, Mexican tax, crew tip, port fee - down to $2,595. But this deal likely only lasts through the Scuba Show (see below) so don't miss out.

SCUBA SHOW IS COMING TO LONG BEACH THIS WEEKEND - The annual Scuba Show will be held this coming Saturday and Sunday at the Long Beach Convention Center both days. Although Reef Seekers will not have a booth per se, we will be quite present at the show as we'll be parking ourselves occasionally in the Nautilus Explorer booth (#106) to talk about Guadalupe, in the Manthiri booth (#424) to talk about our aforementioned trip to the Maldives, and in the Manta Ray Bay booth (#337) to chat about a special trip we have planned for Yap next year. In fact, if you're at the show on Sunday, Bill Acker and I will be giving a free seminar about this special 10-day trip, called "Immerse Yourself in Yap." Bill will give you an idea of the history of Manta Ray Bay and how diving developed in Yap, and I'll give some of the particulars of the trip which will include a Manta ID class, manta dives, shark feeds, island and village tours, and much more. You'll really get all that Yap has to offer. The free seminar is Sunday from 11-Noon in Seaside 4-A. I'll also be involved in two other seminars (which you need seminar badges for). On Saturday, along with Coroner Captain John Kades and Chamber Director Karl Huggins, we'll do our annual "Why Divers Die" seminar at 4PM in Seaside 1. We'll detail all the diving fatalities for 2014 and tell you what happened, what we tried to do to save the person's life, and what can be learned from this. On Sunday from 2-3PM, I'll also be giving "Secrets of Fish ID" in Seaside 7 where I'll show you some quick tips and tricks so you can learn what it is that you'll seeing underwater and how to discover what the creatures you can't identify really are. So come find us both days at the Scuba Show. If you need to locate me and can't do it easily, just call me on my cell at 310/995-3639 and I'll tell you where I am.

THAT'S ONE BIG SPONGE - Scientists say they've discovered what they think is the largest sponge in the world in the northern Hawaiian Islands. (Before you decide to book a trip to go see it, realize it's 7,000 feet deep.) The sponge was actually discovered a year ago and scientists are only now revealing it's existence to the world because they wanted to have some time to study it and try to figure out what it was. But it appears to be a previously-unknown species. And it certainly underscores that there's new knowledge to be gleaned from the ocean depths, especially when you realize that we've only explored perhaps 10% of what's underwater. If you'd like to see the sponge and read a bit more about it, use this link: http://www.cnn.com/2016/05/28/us/massive-sponge-hawaii-irpt/.

A MYSTERY OFF OUR SHORES - Another mystery is presenting itself in our own waters. Dr. Bill Bushing posted the picture below (left) of what appear to be perfectly circular bite marks in kelp, which has been observed in the Avalon UW Park. Bill and his colleagues say they're stumped as to what could be causing this holes. The mystery deepened a little bit yesterday as I was looking through some old photos (right) taken at Catalina's West End and came across kelp - obviously degraded - but which had similar holes (and they weren't caused by the Harbor Seal). I've sent these on to Dr. Bill in hopes they can figure out what's eating the kelp.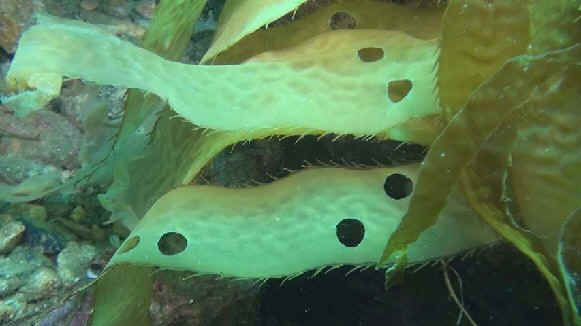 --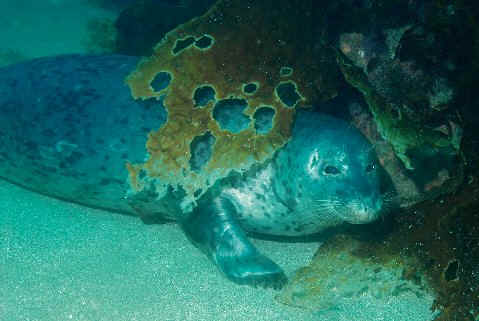 SPEAKING OF KELP - We're hearing reports that the Sargasssum, which can crowd out the kelp, is starting to die off. So hopefully that means that the kelp will have a nice, healthy summertime recovery.

SHARK FIN BAN UPHELD - You may recall that starting in July of 2013, it became illegal to posses or sell shark fins in California. This law was aimed at curtailing killing sharks and cutting off their fins to use in shark fin soup. The ban was opposed by San Francisco Bay area suppliers and they challenged the legality of the law. Last week, the U.S. Supreme Court denied a review of the case, and a ruling by the Ninth Circuit Court of Appeals, which means the ban stands. You can read more about it here: http://www.sfgate.com/news/article/California-s-ban-on-shark-fin-sales-survives-7941082.php?cmpid=fb-desktop.

And on that note, that'll do it for now. Have a great week and hope to see you this weekend in Long Beach.

- Ken
—————————————————
Ken Kurtis
Owner, Reef Seekers Dive Co.


s© 2016 Reef Seekers Dive Co. All Rights Reserved.