• • • REEF SEEKERS REPAIR DEPARTMENT • • •
Contact our repair guru Robert Stark directly at 310/947-8523
or via e-mail at ReefSeekersRepair@gmail.com
(Ask Robert about our unique concierge "Repair Pickup & Delivery Service")

SAVE 33% ON YOUR REG, OCTO, OR BC REPAIR - CLICK HERE TO FIND OUT HOW
————————————————————————————————————————————————————————————————
Want to travel??? Upcoming 2018 vacation trips:

• April 14-2
2
- Bonaire (Buddy Dive - easy, reliable diving)

• June 8-20 - Yap Immersion (8 confirmed - room for 4 more)

• July 14-28 - Sulawesi, Indonesia with our friends at Murex (includes a day at Lembeh Straits)

• August 18-25 - Isla Mujeres (Whale Sharks, Cancun Underwater Museum, Cenotes)
• October 27 - November 3 - Roatan at Anthony's Key

GET MORE INFO ON ALL OF OUR VACATION TRIPS HERE: http://www.reefseekers.com/foreign_trips.html




————————————————————————————————————————————————————————————————
Upcoming local dives & classes:


• Thu., Jan. 25 - (CLASS) Fish ID - Reef Seekers West(wood) ($25)
• Sat., Feb 3 - Redondo - Beach dive [single tank] ($25)
• Thu, Feb. 8 - Redondo - Squid Dive (FREE!!!)


•

Sat., Feb. 10

[PLEASE NOTE DATE CHANGE]

- Catalina Express - Avalon Underwater Park ($150)


•

Sat., Feb. 24 - Catalina Express - 37th Avalon Underwater Cleanup ($150)

To sign up for any of these dives, either call us at 310/652-4990 or e-mail us at kenkurtis@aol.com
————————————————————————————————————————————————————————————————

No untimely deaths to report this week, thank goodness . . .

ROUGH WATER
- Seems like it was a good week not to dive, at least on Saturday. (We ended up cancelling our planned Avalon trip.) With that small storm system that moved through the area Friday came wind - which very typically follows a low-pressure system - and that really chopped things up on Saturday and even to some degree Sunday. The
Catalina Express
cancelled a number of boats heading to Avalon and when I looked at the live shot of the UW Park around 11AM Saturday, there were only a couple of people there. It was also REALLY wavy/choppy/dangerous at the beach, as you can see from the pix below of Vets Park in Redondo.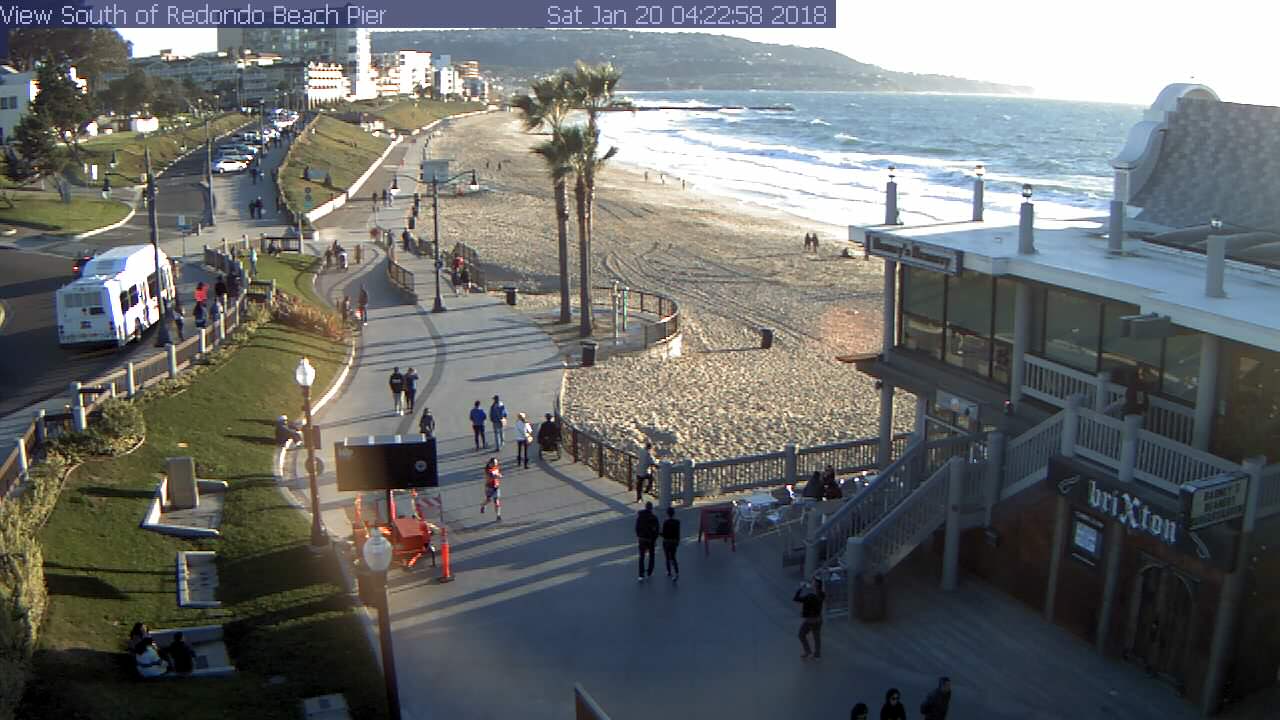 RESCUE AT REDONDO
- Not of a diver along the beach but of a sail-boater who got trapped against the breakwall. The video is from Wayne Craig (thanks to Chris Menjou for the alert). Take a look at the waves. Take a look at the frequency of the waves (the period), and realize that this is happening only a few hundred feet offshore, so these are the same waves you'd be diving through if you were dumb enough to try to do this as a dive. The Baywatch guys in the boat that tows them out risked their own safety to save these wayward sailors. The sailboaters are really lucky their boat didn't break up on the rocks and toss them into the roiling sea:
https://www.youtube.com/watch?v=euARI7PkOiA&feature=share
.

NAME THAT FISH
- If you have problems doing that, give some thought to our Fish ID class this coming Thursday at 7:30PM in Westwood. Fairly informal, covers a simple and easy-to-learn system of identifying what's what and who's who that will work in any body of water in the world, with emphasis on California, the Caribbean, and the Pacific. The reason we offer this class is because it still amazes me at the number of people who take time to learn to dive, but their most common question is always "What was that fish we saw?" The great benefit of this type of a class is that once you learn what you're looking at, your brain will start to understand what's common and what's not and you'll find you not only know the names of things, but you'll start seeing animals that previously escaped your attention. $25 covers you for the class and if you're interested, a call to 310/652-4990 or an e-mail to
kenkurtis@aol.com
will get you signed up.

AVALON RE-SKED
- And while we're on the subject of Reef Seekers outings, please take note that our next Avalon Underwater Park trip has had the date changed from Saturday, February 17, to Saturday, February 10. (I've got to be in Delaware on 2/17.) Give us a call if you'd like to join us for that. And hopefully the sea conditions will be MUCH better than they were this weekend.

DID YOU SEE BLUE PLANET II??
- First episode was this past Saturday evening on BBC America. (It's also running on AMC and a couple of others.) The photography is simply stunning and what I really found interesting was the short program that followed BP2, which essentially was "How We Shot What You Just Saw." Especially if you shoot stills and certainly video underwater, it was fascinating to see and hear what lengths they had to go to to get some of the shots. There are seven episodes overall so set your DVRs to record them if you haven't already.

NEWS FROM BUDDY DIVE DOMINICA
- Some of you have asked if we'd go back to Dominica and my answer has always been not yet, because of infrastructure issues, let alone air skeds to get you (and your gear) in and out. The validity of this position was reinforced by an e-mail I got from Buddy Dive this week announcing that Buddy Dive Dominica (which was based in the Fort Young Hotel) will remain closed for the entirety of 2018 due to the aftermath of Hurricane Maria and the massive rebuilding that is being required all over Dominica as well as specifically with Fort Young and them. You can read their statement here:
http://www.buddydivedominica.com/2018/01/02/buddy-dive-dominica-update/?utm_source=News_19-1-18&utm_medium=email&utm_campaign=BDD%20update
.
BONAIRE AIR SKED NEWS
- Also announced through Buddy Dive's newsletter is the fact that American Airlines is reinstating service to Bonaire from Miami on Saturdays on a seasonal basis. The first flight is June 9. From LAX, you could leave Friday night on an 11:30PM redeye to Miami and then arrive in Bonaire at 3:15PM. The flight back leaves at 4:05PM, again through Miami, and you get back to LAX a bit after midnight, but you don't need to overnight in Miami. From the American Airlines website, economy on that first flight is $1,149 and Business is $1,469 (which is not a bad deal, especially when you factor in bag fees). This sked will NOT be available to us for our trip in April but for anyone going June or later, it's an option along with United (through Houston or Newark) and Delta (through Atlanta).

ISLA MUJERES AIRFARE
- For those of you thinking of joining us this year for Isla Mujeres and the Whale Sharks aggregation, the airfare to Cancun (which is where we fly into) on United has dropped to $611 economy roundtrip. And that's for the non-stop. We've paid as much as $1,100 for this in the past. Pretty good deal.

PRICING CHANGE ON THE UNITED WEBSITE
- This one threw me for a loop just now. In the past United has shown you prices per leg. Now they're showing you prices round-trip. (American and Delta also do the same thing.) But it puzzled me the first time I checked the Isla fare above because last time I looked earlier in the week, it was $200 LAX-CUN and $400 CUN-LAX. Now it pops up as $505 initially, and then $611 when you factor in the return. But it is definitely noted on the website that prices are now roundtrip. It's just that if you're used to the other way, it may seem like sticker shock at first.

NEW RATES FOR FIRST CLASS LETTERS
- It's rather ironic that we face this as we have a government shutdown looming over us but . . . The price of mailing a letter has gone up. Effective now, it's 50 cents for a letter 1 ounce or less (21 cents for each additional ounce), $1.00 for an manila envelope for the first ounce (21 cents for each additional ounce), and postcards are 35 cents if they are 4.25" x 6" or smaller, and 50 cents up to 11.5" x 6.125". Your "Forever" stamps, regardless of what you paid for them, are now worth 50 cents each. (This message is a public service from Reef Seekers Dive Co., which is NOT affected by the government shutdown.)

And that'll do it for now. Have a great week and let's go diving soon!!!

- Ken

—————————————————————
Ken Kurtis
Owner & NAUI Instructor #5936
Reef Seekers Dive Co.





s© 2018 Reef Seekers Dive Co. All Rights Reserved.