Alphabetically:









Reef Seekers offers a variety of trips, both local and foreign. Whether it's a day trip to Catalina Island or an adventure in Yap or Indonesia, we have an itinerary to fit any diver's needs and desires and pocketbook.

Locally, California's kelp forests rank high among the world's most attractive dive destinations. Imagine looking up to see the sun filtering through the golden fronds of the kelp canopy silhouetted against a blue-green backdrop, with vibrantly-colored orange garibaldi swimming through. We're happy to take you diving either from a beach or at Catalina's Avalon Underwater Park. Come see what the southern California waters have to offer. Diving the kelp forests is a unique experience!!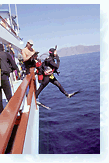 For the adventurous, Reef Seekers offers extended trips to great dive destinations around the world. Dive expeditions to the Caribbean, South Pacific, Australia, Hawaii, Baja California, Mexico, and Indian Ocean are but some of the trips we've offered, with new destinations each year. Click the link in this box to see full details and schedules for all of our escorted Reef Seeker foreign trips.