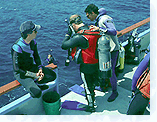 TICKET POLICIES
Tickets are refundable with 2 weeks or more notice. Less than 2 weeks, store credit. Less than 1 week, no refund (unless spot is sold).

Phone reservations can be made on all trips and will be held for 3 days.

REQUIRED GEAR
You must supply or rent the following:
• Tank & weights (none of the boats we use supply these)
• Regulator with an octopus or alternate air source
• Pressure gauge
• BC providing at least 15 lbs. of lift (snorkeling vests do not qualify)
• Fins (don't laugh - we've had people tell us they can dive without them)

DEPARTURE & RETURN TIMES
They vary by destination and which boat we're using. Please heck with us to confirm these times when you make your reservaton.

DIVE POLICIES
All diving must be done within recreational sport diving limits: maximum depths 130' or less, bottom times not to require decompression , standard compressed air or nitrox (<40%) used as a breathing gas (standard SCUBA w/reg & tank - no rebreathers).

If you do not have the required equipment as outlined above, you will not be permitted to dive. You will also not be entitled a refund.

Limit one scuba tank per diver. (Pony bottles are OK and do not count as an extra tank.)

You must show your certification card(s) at sign-in.

A general briefing will be conducted on each trip and is mandatory for all divers.

Reef Seekers has a Zero Tolerance policy for poaching and illegal game-taking. If you take game that is out-of-season, undersized, or over a bag limit, we will contact DF&G and request that a game warden rendezvous with the boat to deal with the offender.

We generally offer 3 dives on each trip.

GENERAL
The Asanate and Hattitude both depart from Ports 'O Call in San Pedro. The Catalina Express departs from either their downtown Long Beach or San Pedro terminals. You can get driving directions by clicking here.