Alphabetically: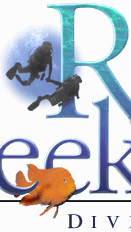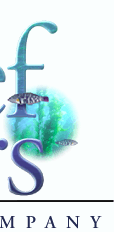 P.O. Box 634 • Beverly Hills, CA 90213

(310) 652-4990
——————————————————————————————————————————————

Follow us on Facebook by clicking this link and then choosing "LIKE":
www.facebook.com/reefseekers

———————————————————————————————————————————————
Can we keep you up-to-date on the latest news and activities?
Join our e-mailing list. Get the weekly "This Week at Reef Seekers" (TWARS)
and the monthly Reef Seekers Dive Co. four-page newsletter.
Click this link and put "Add me" in the subject line: Add me to the e-mail list
———————————————————————————————————————————————
THIS WEEK (August 12-19) AT REEF SEEKERS DIVE CO.

(Please scroll down a bit for all the info, text, pictures, & links.)

YAP 2018 TRIP REPORT YAP 2018 PIX

2018 FOREIGN TRIP SCHEDULE

2018 LOCAL DIVES & CLASS SCHEDULE

CLICK HERE TO READ OUR MONTHLY NEWSLETTERS

CLICK FOR OUR PICTURE PAGES CLICK HERE FOR OUR FOREIGN TRIP REPORTS

DIRECTIONS TO BOATS and VETERANS PARK (REDONDO)

• • • REEF SEEKERS REPAIR DEPARTMENT • • •
Contact our repair guru Robert Stark directly at 310/947-8523
or via e-mail at ReefSeekersRepair@gmail.com
(Ask Robert about our unique concierge "Repair Pickup & Delivery Service")

SAVE 33% ON YOUR REG, OCTO, OR BC REPAIR - CLICK HERE TO FIND OUT HOW

——————————————————————————————————————————————————————————————
Want to travel??? Upcoming 2018 vacation trips:

• October 27 - November 3 - Roatan at Anthony's Key (SOLD OUT!!!)
--- STARTING TO PLAN FOR 2019 ---
• Anyone up for Easter Island??? - Perhaps January or February
• Perhaps a combo Yap & Truk???? - Mid-March
• Maldives for the huge Manta Ray congregation - looking at sometime in Aug/Sept/Oct
• Where else would you like to go?

GET MORE INFO ON ALL OF OUR VACATION TRIPS HERE: http://www.reefseekers.com/foreign_trips.html
———————————————————————————————————————————————————————————
Upcoming local dives & classes:

• Sat., Aug. 16 (re-sked - see below) - Redondo - Navigation (single tank - $25)
• Sat., Aug. 25 - Catalina Express - Avalon Underwater Park ($150)
• Thu., Sept. 6 - Redondo - Night Dive (FREE!!)
• Sat., Sept. 15 - Catalina Express - Avalon Underwater Park ($150 - early departure, early return)
• Thu., Sept. 20 - CLASS - PHOTO WORKSHOP @ Reef Seekers Westwood ($25)

To sign up for any of these dives, either call us at 310/652-4990 or e-mail us at kenkurtis@aol.com
———————————————————————————————————————————————————————————
Kermit the Frog may have sung "It's not easy being green" but when it comes to water, that's not our favorite color . . .

LOW VIZ - We ended up postponing our Saturday Navigation class due to low visibility, aka green water. One of the guys had actually dove Vets the previous weekend and said he couldn't see his hand in front of his face, especially in the shallows. I went and took an in-person look Thursday afternoon and it looked pretty green/mucky then. Didn't look that much better through the Redondo Pier Cam on Friday so we decided to postpone to possibly this Thursday afternoon (in case anyone else is interested - call 310/652-4990 to sign up). What's ironic about all of this is that on both Saturday and Sunday, Vets looked like a lake (see below) which generally should mean particulate settles and things will, shortly, clear up.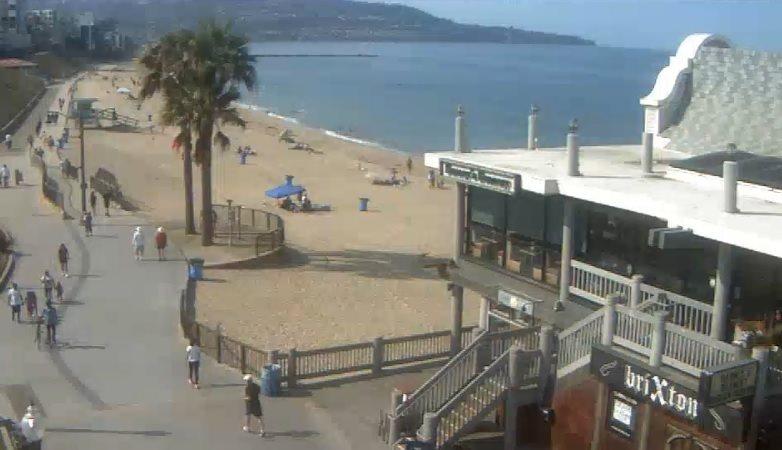 MORE GREEN WATER - Susy Horowitz dove the Avalon and some other PV sites over the weekend and also had green water with viz ranging from less than 10 feet to maybe 30 feet. So it sounds like the green-ness is fairly widespread in the PV area. I also saw a post from Avalon's Dr. Bill that he did a dive in the UW Park over the weekend and the viz was so bad you could hardly see the kelp. The surface water temp was a toasty 76º according to Bill, which is approaching tropical (certainly Hawaii) water temps. Obviously it's cooler underneath but even so, this could have some impact on our ecosystems. It's presumed that this type of warm water during the El Ninos of the 80s and 90s is what allowed Scythe Butterfly to migrate north and settle into some SoCal waters. (Guadalupe Cardinalfish too, as well as Arrow Crabs.) As waters returned to normal temps, some of the fish didn't make it but some adapted and thrive to this day. There's some debate as to whether they've become a sub-species or not but the point is that we may see some changes, for good AND for bad, once water temps settle down. In the meantime, enjoy the warmth . . . if you can see where you're going.

RED IS NO BETTER - In Florida, there's a horrible red algae bloom (aka red tide) going on right now that's devastating wildlife up and down all sides of the state. It actually started back in the fall of 2017. Animals that ingest water containing the toxic algae go comatose and many eventually die. These include manatees (about 80 deaths so far), turtles, and even a juvy Whale Shark. On top of that, there's a green algae bloom that's hitting Florida's inland waterways, thought to be the result of agricultural and development runoff and exacerbated by other factors. Bottom line is that if you've got a Florida trip planned and it involves being on the water, check the conditions out before you go. There's a very informative National Geographic article on all of this but be forewarned that there are some disturbing - yet powerful - pictures in there of massive fish kills: https://www.nationalgeographic.com/environment/2018/08/news-longest-red-tide-wildlife-deaths-marine-life-toxins/

WHERE DID THE PENGUINS GO? - It seems there's been a lot of chatter in the last few weeks about climate change, especially with all of the California wildfires, hot temps all over the United States, and stuff like that. Now there's more to add to the mysteries of what's going on as researchers have discovered that a remote colony of King Penguins has seen a 90% reduction in their population in the last 35 years, plummeting from roughly 2 million birds in the early 80s to 200,000 now. You can read more about it here (https://www.aol.com/article/news/2018/08/08/worlds-largest-king-penguin-colony-has-mysteriously-shrunk-by-90-percent/23498663/) but this is what it used to look like: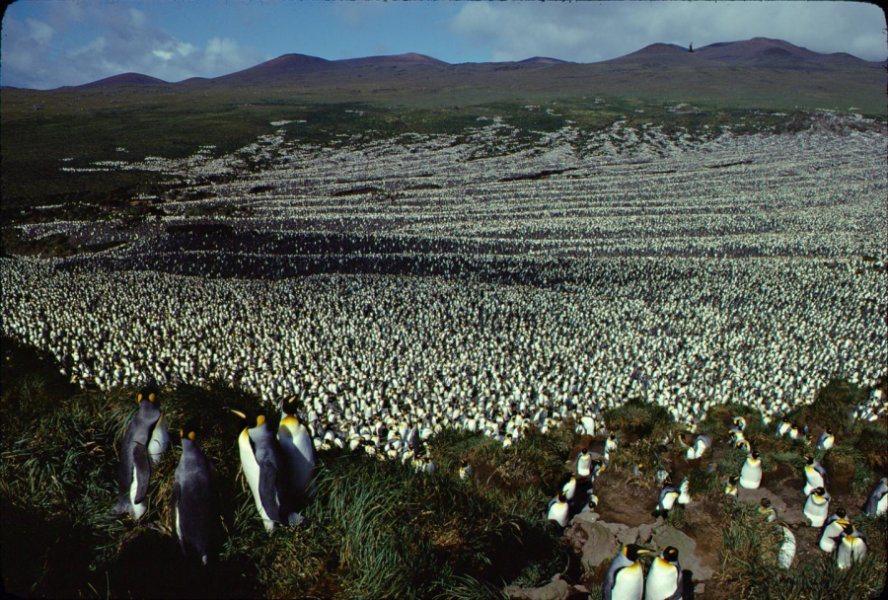 SOME GOOD NEWS - Last week I gave you a thumbnail version of a dive accident and I'm happy to this week be able to tell you that the diver survived and the prognosis is good. But what I really want to single out are the actions of her buddies, which likely saved her life. The diver in question was relatively new (20 dives or so and none in California), and did not know beforehand the people she was buddied up with. Nothing wrong with any of that. As I mentioned last week, it seems that multiple little things were going wrong and they eventually overwhelmed her. I also speculate that the straw the broke the camel's back was the mask flooding, as she then took off for the surface. From an instructor's standpoint, we KNOW you all didn't like to clear your masks. But the reason we want you to do it over and over and over again (and if you got good training, you were also made to swim around without a mask on your face for a few minutes) is that we know mask flooding and water up your nose or down your windpipe can trigger a panicked ascent, and we want your reaction to and resolution of that flooding to be automatic. As she ascended, it sounds like the buddies went with her, may have even gotten her untangled from some kelp - which could have radically changed the outcome had they not been with her - and were able to quickly get her back to the boat where she regained consciousness and was treated by the boat crew until a USCG helicopter arrived to airlift her. I asked the buddies if they had dropped her weights and they said "No" and that they didn't even really think about that because they were focused on getting her back to the boat. So the only thing I'd add would be my usual refrain of . . . DITCH THE WEIGHTS. It's only lead (and maybe a weight pouch). But losing the lead will not only make victim transport easier, it pretty much guarantees positive buoyancy and that you won't be in a situation where if you tire or lose your grip on the victim, they sink back down. But kudos all around to the buddies and the actions of the boat crew because there's no doubt in my mind that those are the reasons she survived this incident. And I relay all of this to you in the hopes that you'll know in the back of your mind, if you are ever faced with something like this in the ocean, ANYTHING you can do, even if it's not perfect, can make a HUGE difference in the outcome.

And that'll do it for now. Have a great week and let's go diving soon!!!

- Ken
—————————————
Ken Kurtis
Owner & NAUI Instructor #5936
Reef Seekers Dive Co.





s© 2018 Reef Seekers Dive Co. All Rights Reserved.