• • • REEF SEEKERS REPAIR DEPARTMENT • • •
Contact our repair guru Robert Stark directly at 310/947-8523
or via e-mail at ReefSeekersRepair@gmail.com
(Ask Robert about our unique concierge "Repair Pickup & Delivery Service")

SAVE 33% ON YOUR REG, OCTO, OR BC REPAIR - CLICK HERE TO FIND OUT HOW
————————————————————————————————————————————————————————————————
Upcoming local dives (call 310/652-4990 for more info and to register):

• MORE TO COME IN 2016 BUT SO FAR . . .
• Saturday, February 20 - 35th Annual Avalon Underwater Cleanup
• Saturday, March 12 - Diver's Day at the Long Beach Aquarium of the Pacific (9AM-5PM)
• Wednesday, May 4 - Chamber Day & Eve 2016
————————————————————————————————————————————————————————————————
Want to travel??? Upcoming 2015-2016 vacation trips:

• March 11-19 - Yap (can be combined with Palau)
• March 20-27 - Palau on the Palau Aggressor II [ can be combined with Yap - ONE spot left ]
• Late June or early July - Bonaire
• August 1-6 - Isla Guadalupe & Great White Sharks [ ONLY 6 SPOTS AVAILABLE ]
• August 13-20 - Isla Mujeres & Whale Sharks, cenotes, and statues [ ALMOST FULL ]
• August 20-27 - Isla Mujeres & Whale Sharks, cenotes, and statues [ SOLD OUT ]
• November 3-16 - Maldives on the Manthiri [ 6 SPOTS CONFIRMED - ONLY 6 STILL AVAILABLE ]

GET MORE INFO ON ALL OF OUR VACATION TRIPS HERE: www.reefseekers.com/foreign_trips.html
————————————————————————————————————————————————————————————————
If that was to be Peyton Manning's last game, nice way to go out . . .

WHERE'S EL NINO??? - At the risk of sounding like a Climate Change Denier, 80º sure doesn't seem like El Nino. And now they're talking Santa Ana winds? In February?? Well, it actually DOES meet the standard of "climate change" but the point is I thought we were going to be getting pounded by rain the first three months of 2016. The beach sure looked good over the weekend, at least in terms of surf size, which was about ankle-slapper height. (Not sure what the viz was.) So take advantage of conditions before the El Nino hits the fan.

CLEANUP IN TWO WEEKS - And one place you can do that is at the 35th Annual Avalon Underwater Cleanup. Final preparations are underway and it's not too late to sign up. In fact, it's also not too late to sign up as part of the Reef Seekers group. We'll be a compact little bunch but we'll take the early (6:15AM) boat over, dump our gear, I'll get everyone signed in, and then we can have a fairly leisurely breakfast. There's a briefing at 9AM, the diving takes place from 9:30-11AM, and then we either store your gear or put you in a cab to the UW Park where you can do some more dives. To join in on the fun, just give us a call at 310/652-4990.

SCUBAPRO COMPUTER RECALL - If you purchased either a Scubapro Galileo SOL or Luna dive computer in the U.S. since May 7, 2015, stop using the computer and send it back to Scubapro for replacement. There's a recall on. You can read more about it here, including checking which specific serial numbers are affected. If you dive with one of these units, don't ignore this because the defect could compromise your safety underwater: http://www.scubapro.com/en-US/USA/galileo-sol-luna-recall.aspx.

NEW UNDERWATER MUSEUM - One of the highlights of our August trip to Isla Mujeres (still room on the first week but the second week is full) is doing two dives around MUSA, the Cancun Underwater Museum, created by sculptor Jason deCaires Taylor. Jason's hard at work on another underwater museum, this one is Lanzarote, Spain, and it looks really interesting and extensive. (I got an e-mail from Jason the other day about this and his biggest complaint is that the water's a lot colder than what he's used to.) Some of Jason's works have a political or environmental message behind them and I found "The Raft of Lampedusa" (third pix below) to be especially moving. You can find out more about Jason's work on his Facebook page (https://www.facebook.com/Jason-deCaires-Taylor-150479558321853/) as well as a nice video on CNN about this project and some others Jason has done: http://edition.cnn.com/videos/travel/2016/02/03/lanzarote-europe-first-underwater-museum-sdg-orig.cnn. Here's a taste of what it looks like: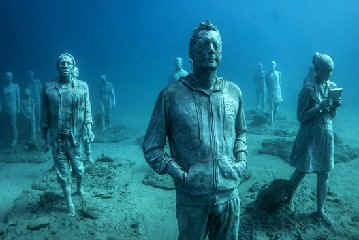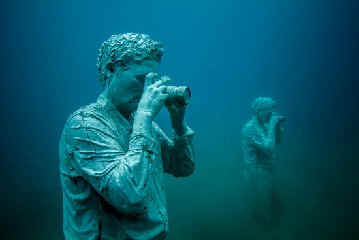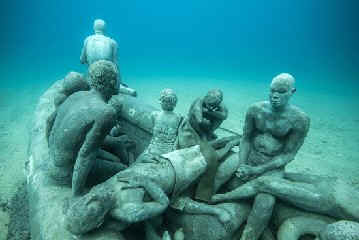 And that'll do it for now. Have a great week and let's go diving soon!!!

- Ken
—————————————————
Ken Kurtis
Owner, Reef Seekers Dive Co.


s© 2016 Reef Seekers Dive Co. All Rights Reserved.