This was a good weekend to go dive . . .
BECAUSE THE WEATHER'S TURNING
- Looks like we'll get slammed with some high waves Tuesday/Wednesday based on the current forecast. In fact, there's already (Sunday evening) a Gale Watch in effect for high winds. So if you were able to get out this weekend, good timing. We heard from people over at Catalina today and they said they had very nice conditions.
CHAMBER DAY/EVE IS FILLING UP
- The
Cee Ray
(our official boat) is now full and our Ch-Eve table is about half-full. We're a little over two weeks away from Chamber Day 2014 and it's not even remotely too late for you to get involved. It's the largest single-day scuba charity event in the US and its success depends on contributions from divers like you, whether you dive here in SoCal or not. Because protocols developed at our Chamber here might be used at other chambers worldwide and you could find yourself halfway around the world yet still benefit from the work being done here. So whether you make a direct contribution through the Chamber Challenge, or sign up for the
Flying Dutchman
, or just buy some raffle tickets, please get involved today at
www.chamberday.org
or by calling us directly at 310/652-4990 (we're the co-ordinating store).
CHAMBER DAY HOT TICKET SWAG
- We gave you guys (and gals) a sneak peek last week and then officially announced them to the world mid-week but it looks like our commemorative 3-magnet set is a hit. They're really nice with the square ones being 2x2" and the third about 2¼" round. One is our Chamber Day 2014 40th anniversary logo, one is our iconic Chamber tile logo (which we've been using since 2005), and the round one is a special Chamber "Est. 1974" commemorative magnet. You'll be able to order these on the website or directly through me. We "only" ordered 250 and once they're gone, they're gone, so make sure you get yours before we run out (which I truly think will happen - just not sure how quickly). Here's a reminder of what they look like: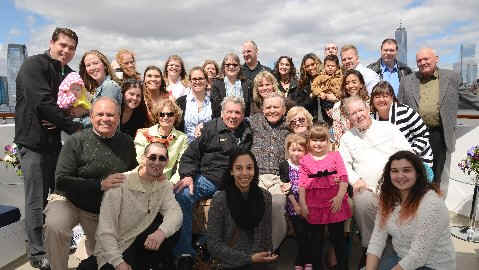 THAT'S ONE BIG SHARK
- There's a story coming out of Australia about tagging what they're calling the world's largest Great White Shark. This one, whose nickname is "Joan of Shark" measures in at about 16 feet. Most reference books I have talk about max length for a GWS at around 20-21 feet so I'm not sure if the "largest" moniker is accurate. But it's one biiiiig shark. Best of all, they've been able to tag it so they can now monitor the activities of Joan of Shark to hopefully learn more about the species in general and this shark specifically. If you'd like to see a picture and read a short article, use this link:
http://www.aol.com/article/2014/04/16/l/20870598/?icid=maing-grid7%7Chtmlws-main-bb%7Cdl9%7Csec1_lnk3%26pLid%3D465670
.
NOT A FISH BUT A BIRD
- Since the beginning of the year, a common finch known as a House Sparrow has taken up residence in the area behind my back balcony. It's been really impressive how loud such a little bird can chirp (and how early they get up to do it). I hadn't been able to figure out where this guy was but in the last few months, a few more have joined him and I've now started spotting where they hang out. As far as I can tell, there's at least three of them and maybe more. The chirpy ones are males (they have a reddish breast) ands there's at least one female who seems to be nesting or preparing to nest in a ventilation duct on the side of the building behind me (certainly an area that's safe from predators). A lot of times I see them on the power line that runs behind my building and what's really interesting is that they seem to have some specific favorite spots. And when I say "specific" I mean they are within inches of the same spot every time. Needless to say, they've provided me with some good photo opportunities. (It's also nice to be able to shoot an animal with available light and without a housing). But I've also been trying to figure out how to get them closer so this weekend, I went out and got a small bird feeder. To make sure they understood what was in the feeder, I also put some birdseed in a bowl next to the feeder. Of course, they haven't touched the feeder but they have no problem standing on the food in the bowl and munching away. Anyhow, they're not fish but they're cute and I thought you'd enjoy some of the shots. If you want to see the entire sequence I've been shooting (and bigger images), I've got a slide show up on my Smugmug site which you can see through this link:
http://kenkurtis.smugmug.com/Animals/Finch/38618660_qB43p3
. In the meantime, here's a couple of teaser shots of Finch & Friends: