Want to travel??? Upcoming 2017 vacation trips:

• September 1-6 - Great White Sharks of Guadalupe on the Nautilus Belle Amie [ SOLD OUT!!! ]
Upcoming local dives & classes:
————————————————————————————————————————————————————————————————
Yap stuff is posted . . .
ENJOY YAP VICARIOUSLY - In case you missed the Friday e-mail, I've got the Yap trip report, pix, and a video posted now. Despite some weather glitches, mostly affecting Group 2, we had a great time. There are a lot of things that in my mind make Yap special, and the mantas, Mandarinfish, and the sharks are only the beginning. Granted we're at a resort where their job is to be nice to you, but I find the people overall to be soooo friendly and smiling. It's really a pleasure just to go there and the diving makes it all the more wonderful. But I won't gush here. Instead, you can enjoy my gushing and the visual evidence through these links:
LOCAL DIVING SEEMS TO BE IMPROVING - One of the complaints I've been hearing rather consistently all summer is that the vis hasn't been all that great. But perhaps that is now changing as I've been hearing people talking of improved vis in Laguna, around Palos Verdes, and over at Avalon as well. And it seems like the water's pretty warm although I've also been hearing tales of thermoclines as you descend, not only along the beaches (for instance, we KNOW it's always colder when you go down the slope into Redondo Canyon than it is up in the shallows) but also at Catalina. Dress accordingly. I remember one year when we also had warm water and we were doing a dive at Redondo. My group asked me if they needed a hood or not and I told them they could probably go without. BIG mistake as it was bone-chillingly cold in the Canyon and all I could hear were their moans and groans. No one complains about being too warm. We hear about it when you're too cold.
WAYWARD WHALE
- There's a really cool video from last week (shot by Orange County Outdoors) of a whale along the Oorange County Coast. It's all shot from a drone and starts with him (??) going into really shallow water and only a few feet off of the shoreline in one of the OC coves. It's also amazing because it seems like a lot of the swimmers are absolutely unaware that he's in their midst. Then he turns and heads for deeper water and the drone/camera follows him. I think you'll get a kick out of it (and be jealous that you weren't one of the swimmers):
https://www.youtube.com/watch?v=Wz98nHFTUPE
.
WEIGHTY ISSUES - We've had an interesting discussion in a ScubaBoard thread about over-weighting. I contend - and have for years - that most divers dive over-weighted. (And before you say, "Well, he certainly can't mean ME," yes, I'm talking about you too.) Ideally, you should be neutrally buoyant with zero air in your BC and about 500psi in your tank at your 15-foot safety stop at the end of your dive. So here's your test for your next dive. When you get to your safety stop, dump all the air out of your BC, stop your kick, stop your arms, and see if you sink or rise. I'm willing to bet that you sink. This means you're too heavy. Kick back up to 15 feet, let all the air out of your BC, take a BIG breath, and repeat. The air in your lungs is roughly 8-10 pounds buoyant. If you start to rise, simply exhale. But if you're still sinking, you're waaaay over-weighted. So after the dive, take 2 pounds off of your belt. Repeat the experiment at the end of the next dive. If you still sink, take off 2 more pounds. Keep doing this until you get to the safety stop, dump the air out of your BC, stop your kick . . . and you rise. Then you've taken off 2 pounds too much. (Not a big deal, just breathe a little shallower and don't inhale fully during that safety stop.) But I'm willing to bet many of you could take off anywhere from 2-10 pounds if you try this. Assuming you're diving in cold water with a 7mm wetsuit, 10% of your body weight was generally the rule of thumb and IMHO if you're exceeding 15-20% of body weight, that's probably too much. (For warm water in a 3mm, it would be 5% of body weight to start and if you exceed 10% of body weight that's probably way too much.) Being properly weighted will mean you work less and will likely improve your air consumption as well. It only takes a few minutes to check.
HEADING FOR THE ECLIPSE - Laurie & I are heading to Nashville for the total solar eclipse next Monday (I've got some friends who live there and it's just off the centerline) and I'm hopeful of getting some good shots. I will definitely do TWARS from Nashville next Sunday eve and may have some shots to share by Monday evening, should all go as planned. Check Facebook and SmugMug. Right now, the Nashville forecast is for clear skies and I'm crossing my fingers hoping that holds. That being said . . .
LOANER LENS??? - I shoot Nikon. The longest lens I've got is a 300mm. Any chance anyone reading this has a Nikon-mount 600mm or 800mm they'd be willing to lend me for the eclipse? (Or even a Sigma 150-600mm?) If you do, send me a private reply to this e-mail addy. I'm sure I can figure out some way to amply reward you for your generosity.
FREE COUCH TO A GOOD HOME - I'm in the process of replacing my wonderful, trusty couch. It has served me well for lo these many years and I'd love to see it go to a good home if anyone's in need of an additional or replacement sofa. It admittedly could use a bit of a cleaning in a few spots, but it's in really good shape and it's really comfortable. If you're interested or want to come by and take a look and a sit, let me know. You'll need to plan to haul it away but other than that, it's yours if you're the first one to claim it. (I also need a little while longer to get the new couch in so you can't have it tomorrow.) Here's a picture: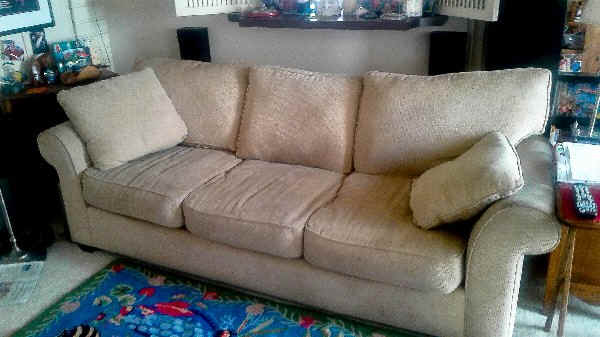 And that'll do it for now. Have a great week, and let's go diving soon. . . but likely after the eclipse, and probably after the Great White trip as well.